Everything you need to know about The Hopkinson House
5 Fast Facts About The Hopkinson House
33-The total number of stories
 Awarded the Silver Medal Award by the Philadelphia Chapter of the American Institute of Architects
1963- The year Hopkinson House was built
536-Total number of units
1980-Year it was converted to Condominiums
Amenity Highlights
Front Desk Services – 24-hour service
Screens and announces all visitors;
Checks all resident entry permits;
Dispenses keys, as appropriate;
Documents on Incident Report Forms any pertinent or emergency situation;
Records all work order requests;
Handles extermination requests;
Dispenses and obtains signatures for packages, special mail, carts, keys, flowers, etc.;
Schedules, confirms and collects monies for all moves-in/out;
Maintains reservation book; processes contracts and deposits for Solarium scheduling;
Ensures all building and individual owner contractors are registered, issued badges, and have filed all appropriate forms before beginning work.
Knows all emergency, building, fire and safety procedures, including public address system;
Responds and handles fire emergency alarms.
Doorman Services – 7 a.m. to 11 p.m.
Greets and opens the door for residents and visitors;
Assists residents and visitors in and out of building with packages, luggage, taxis, etc.;
Screens persons entering building to determine suitability and observes pedestrians in immediate area of the building in order to report any suspicious activities that may occur;
Calls and arranges for emergency vehicles when appropriate and prioritizes duties in an emergency situation.
Concierge Services
The Front Desk will sign for all packages and deliveries. Please make arrangements to pick up your USPS, UPS, FedEx, overnight packages and all other deliveries within 24 hours of their arrival. Large packages will be taken up to your unit by a staff member if they are not picked up within 8 hours. We are unable to hold packages for extended lengths of time. Please make arrangements to pick up your deliveries promptly. HHOA is not responsible for loss or damage to packages delivered to the building.
The front-desk staff do not accept deliveries of dry cleaning, furs or any hanging clothing. Please make arrangements to have these items delivered directly to your unit when you are at home. Staff members will not accompany them to your unit.
The front-desk staff is prohibited from holding cash for residents. Payment arrangements for housekeepers, contractors, vendors, etc. must be made by the residents directly with their service people. Hopkinson House will not be responsible for cash left at the front desk.
Hopkinson House Swimming Pool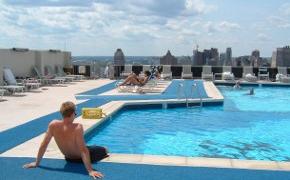 The rooftop pool season typically begins Memorial Day Weekend and ends in October. Annual membership is open  to full-time residents and owners. The rules and regulations governing the operation of the swimming pool – including behavior, guest privileges, and fees – are promulgated each year by Council.  The 2018 Pool Season runs from May 26th through September 23rd. Click here for the pool schedule.

Parking Garage
Hopkinson House Garage   215 574-8321
Hopkinson House contracts with Towne Park to operate the Parking Garage.
Monthly Parking
Monthly parking is available to Hopkinson House residents. The resident monthly parking fee for new parkers as of May 1, 2017, is $225. Please contact the Garage Manager to arrange for monthly parking.
The History of The Hopkinson House
Hopkinson House was conceived in conjunction with a wide-sweeping civic project to restore historic sections of Philadelphia to their vanished grandeur. Hopkinson House is considered a modern monument to the success of a vision that Charles E. Peterson, Judge Edwin O. Lewis, Mayor Richardson Dilworth, Senator Joseph S. Clark, Jr. and City Planner, Edmund Bacon had: the conversion of the Society Hill area from a slum to the showcase renowned as one of the country's most successful urban renewal projects.
As early as 1955, a syndicate headed by Albert M. Greenfield envisioned building a hotel on Washington Square: a plan which never materialized. In 1959, Major Realty Corporation contemplated the development of a high-rise on the not quite yet rehabilitated Washington Square. Hopkinson House was the name selected by the developer to honor Francis Hopkinson (1737-1791), a Philadelphian, signer of the Declaration of Independence, a Renaissance man known for painting, musical compositions, and essays as well as for his career as a lawyer and a judge.
Hopkinson House's architect, Oskar Gregory Stonorov (1905-1970), was a modernist architect and architectural writer. Following studies at the Universities of Florence and Zurich, Stonorov apprenticed with French sculptor Aristide Maillol. In the United States, he worked on the design of housing developments in Pennsylvania with Louis Kahn. Philadelphia architect and future Pritzker Prize winner Robert Venturi worked in Stonorov's offices.
Influenced by the Bauhaus school of design and a disciple of both Le Corbusier and Frank Lloyd Wright, Oskar Stonorov worked in a modern idiom he endowed with personal flair. Hopkinson House's exterior distinctiveness comes from the brilliant placement of balconies which gives it an eye-catching staircase pattern. The broad, glassy entrance to the building and its handsome porte-cochère is a gentle welcoming presence that fits with the entire setting of the park.
The Neighborhood
The neighborhood roughly corresponds to the area between 7th and Broad Streets and between Chestnut and South Streets, bordering on the Independence Mall tourist area directly northeast, Market East to the northwest, Old City and Society Hill to the East, Bella Vista directly south, Hawthorne to the southwest, and mid-town Philadelphia and Rittenhouse Square to the west. In addition to being a desirable residential community, it is considered a hip, trendy neighborhood that offers a diverse array of shops, restaurants, and coffee houses. Washington Square West contains many gay-friendly establishments and hosts annual events celebrating LGBT culture in Philadelphia including OutFest. The area takes its name from Washington Square, a historic urban park in the northeastern corner of the neighborhood. Philadelphia's Antique Row lies in the area as does the nation's oldest hospital, Pennsylvania Hospital. Educational and medical facilities associated with Thomas Jefferson University, a leading regional medical university and health care center, are located within the neighborhood. The one-time headquarters of the former Curtis Publishing Company and the University of the Arts lie at the edges of the neighborhood. Washington West's real estate is mixed commercial, residential and service industries, characterized by two, three, and four-story rowhouses interspersed with condominiums, mid-rise apartments, hospitals and offices with ground-floor retail. The neighborhood follows William Penn's original grid layout for the city, with many one-lane and pedestrian side streets added later as the population became more dense. In addition to the block sized Washington Square Park to the East, the neighborhood contains the smaller Kahn Park, named after the Philadelphia architect Louis Kahn who resided in the neighborhood.
(Visited 57 times, 1 visits today)
Comments